Iranian officials are reporting that they have detained two foreign registered vessels on charges of fuel smuggling. Several international media sources are citing it as a seizure of two "oil tankers" but security analysts believe it is small regional vessels.
This would be consistent with Iran's previous efforts and the nature of the statements being quoted in the Iranian media. Iran has regularly stopped vessels in the Persian Gulf and has accused several ships of smuggling oil products. The two vessels they stopped earlier this week reportedly had a total of 1.5 million liters of fuel aboard.
The Tasmin News Agency quoted a spokesperson for the IRGC Navy saying, "During the past two days, IRGC Navy fighters of the third region stationed in Mahshahr port and North the Persian Gulf, based on intelligence monitoring, seized two vessels that were trying to smuggle oil and gas of the Islamic Republic in the Persian Gulf in an organized manner by the order of the judicial authority."
Iran is identifying the vessels as the Steven registered in Panama and the Kron registered in Tanzania. They are saying a total of 37 crewmembers were detained and the vessels were taken to the Mahshahr port. The crew reportedly was handed over to "judicial authorities to continue the legal procedures."
Security consultants Ambrey believes one of the vessels to be an anchor handler which they reported can be seen carrying fuel hoses, pumping equipment, and lubricant drums on its deck. The picture released by the Iranian however was similar to one released during another incident in April.
Ambrey believes the second vessel in the current incident may be a small bunker vessel. The suspect vessel they report has been intermittently going dark, turning off its AIS.
The spokesperson for the navy reported that "all illegal actions of trans-national commercial and military vessels are monitored," and that the navy would continue its enforcement efforts with "authority."
After several incidents, including the seizure of two tankers, earlier in the year, the U.S. and UK responded by increasing patrols and monitoring efforts in the Persian Gulf. The joint military command however has repeated its cautions and warned ships to stay away from Iranian waters.
On Wednesday a smaller cargo ship reported an incident using the word "attack" according to Ambrey which identified the vessel as being registered in Panama. The information matches a 23-year-old bulker the Cosocean which is now identifying on its AIS as Royal Blue. The AIS signal shows the 5,000 dwt vessel departed Sharjah located in United Arab Emirates on September 12. During its transit of the Strait of Hormuz, the vessel showed erratic movements but it proceeded and is now outside the Gulf slow steaming off the coast of Oman. It appears to have been a case of harassment without an actual seizure.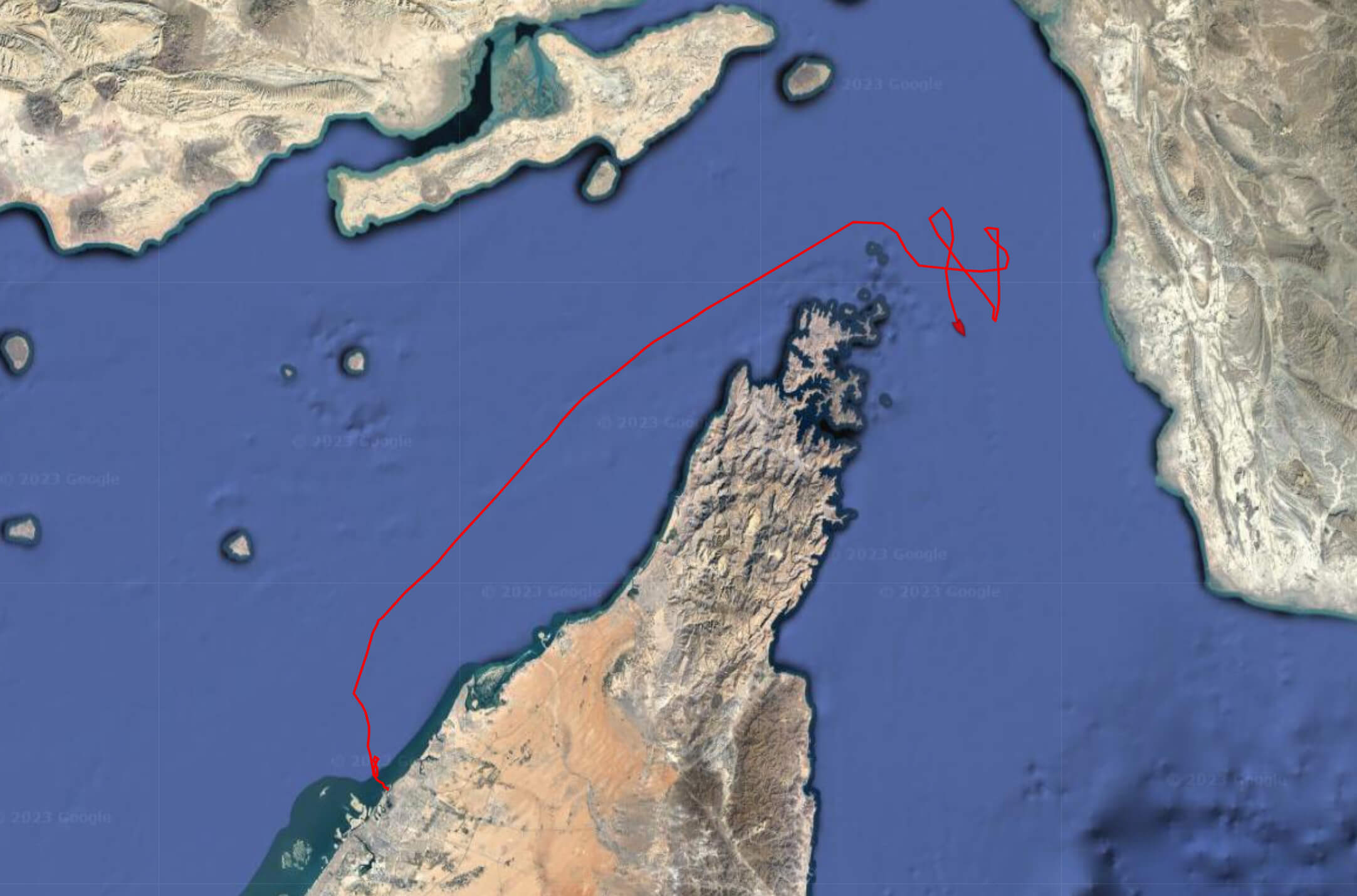 AIS signal from a vessel suspected of being harassed on Wednesday (AIS courtesy of Pole Star)