Lara Sheehi, assistant professor of Clinical Psychology at George Washington University, was recently accused of antisemitism by pro-Israel group StandWithUs.
As per reports, last month, StandWithUs filed a complaint against Sheehi for her alleged discriminatory behavior. The complaint claimed that the professor refused to accept definitions of antisemitism given by her Jewish students. She was also accused of Zionism and hate speech regarding Israel.
The complaint further stated that the university did not take proper action regarding the issues raised by the group.
The Guardian reported that Sheehi said she is being targeted by SWU for her activism because she is an Arab woman. In a defense she penned for herself in Counterpunch, the professor wrote:
"One only need look at its [SWU] stated mission to see that it is a shameless fringe political activist group prosecuting a right-wing pro-Israel agenda."
---
What did Lara Sheehi say? Professor writes defense in response to accusations
According to The Washington Free Beacon, a student reported that Lara Sheehi asked students in one of GWU's required diversity courses to share details about themselves. During the session, when a student said she was born in Israel, Sheehi allegedly responded by saying:
"It's not your fault you were born in Israel."
In the past, Sheehi has also reportedly shared tweets in which she called for the destruction of Zionism and even deemed the Israeli military "genocidal fu**s." This has further intensified backlash against her.
In a defense that she wrote for Counterpunch, Sheehi stated:
"The objective and irrefutable facts do not support StandWithUs' specious claims that I target my Jewish and Israeli students. They do not support the unethical and dangerous allegations that I am antisemitic and retaliatory."
She continued:
"What the facts, in glaring clarity do support, is that, like others before me, StandWithUs exploited students' political beliefs and targeted me because I am an Arab woman who is involved in scholarship and activism for Palestine and Palestinians."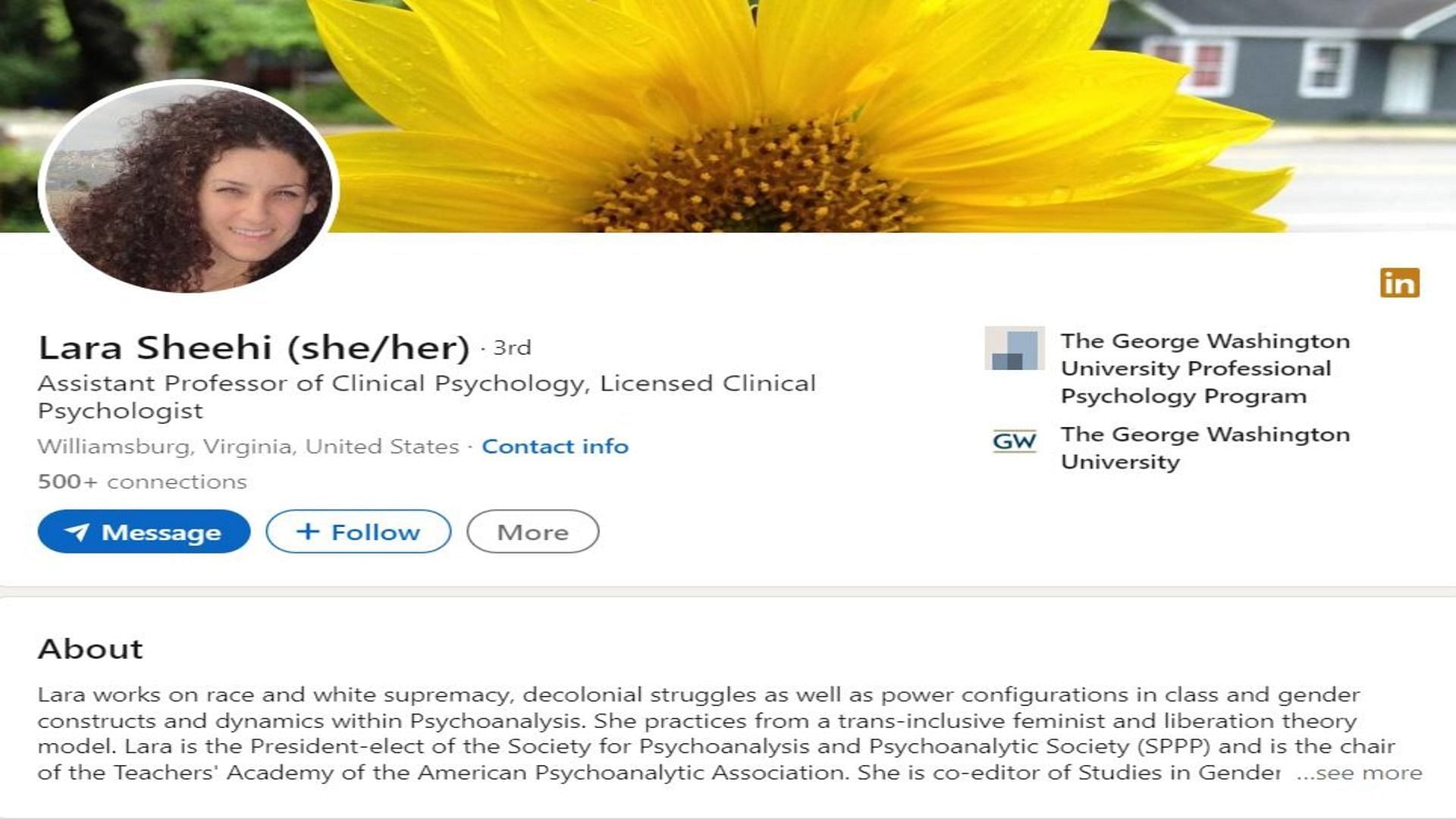 As per her LinkedIn bio, Lara Sheehi works on "race and white supremacy, decolonial struggles, as well as power configurations in class, gender constructs, and dynamics within Psychoanalysis."
She has worked as a faculty member at the George Washington University Forensic Psychology Program for 7 years. For the past 5 years, she has been working as the assistant professor of Clinical Psychology at the same university. Before this, she had a private practice for 10 years.
---
Professor Lara Sheehi row receives mixed reaction from social media users
As soon as the issue started circulating online, some netizens slammed the professor for her discriminatory behavior.
Meanwhile, some social media users also sided with the professor.
Some students also started a sign on letter in support of Lara Sheehi.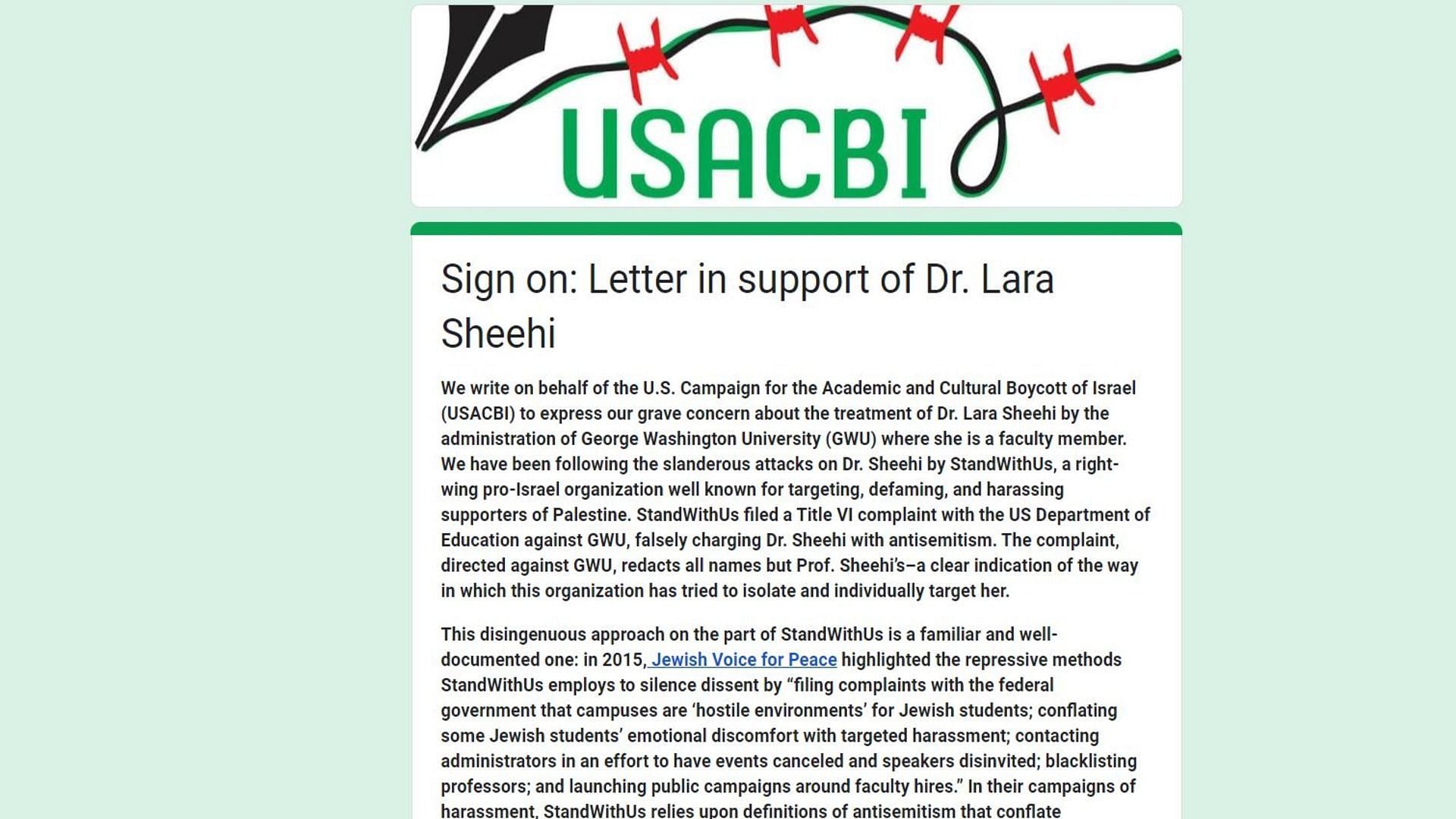 The letter expressed concern about the treatment of Lara Sheehi by the administration of George Washington University (GWU). It was written on behalf of the U.S. Campaign for the Academic and Cultural Boycott of Israel (USACBI).
Sheehi is represented by the American-Arab Anti-Discrimination Committee, which accused GWU of a biased response to the incident. The university, however, has released a statement saying that they are "conducting a thorough examination" and refrained from commenting further.