Israel's prime minister has made an official trip to neighbouring Egypt for the first time in a decade.
Naftali Bennett described his talks with President Abdul Fattah al-Sisi in the Red Sea resort of Sharm el-Sheikh as "very important and very good".
Egypt said they had discussed regional issues, including ways to revive the Israeli-Palestinian peace process.
Mr Bennett, who succeeded long-time Israeli leader Benjamin Netanyahu in June, was invited to visit last month.
He was reported to have also travelled secretly to Egypt in 2018 for unofficial talks with Mr Sisi, who led the military's overthrow of Mubarak's democratically elected successor in 2013 following mass protests. They also met on the sidelines of the UN General Assembly in New York several times.
Egypt became the first Arab country to sign a peace treaty with Israel in 1979, but relations between the neighbours have often been cool.
The details of Mr Bennett's trip to the Sinai Peninsula on Monday were shrouded in secrecy for security reasons, and his meeting with Mr Sisi was only announced shortly before it started.
An official photograph showed the two leaders sitting closely together in front of their national flags.


The BBC's Yolande Knell in Jerusalem says that for President Sisi this was a chance to reassert Egypt's regional role, while Israel's prime minister was looking to show himself as a statesman.
"We discussed a series of issues in the diplomatic, security and economic spheres, as well as ways to deepen ties and strengthen the interests of our countries," he added.
According to a spokesman for the Egyptian presidency, Mr Sisi "affirmed Egypt's support for all efforts aimed to achieve a comprehensive peace in the Middle East, based on the two-state solution and in accordance with the international legitimacy resolutions, which contributes to enhancing security and prosperity for all the peoples of the region".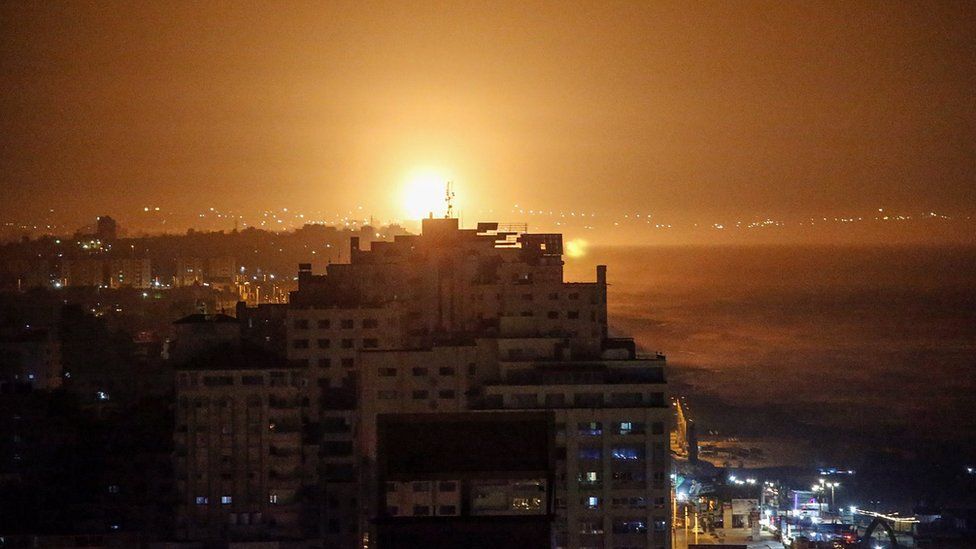 Our correspondent says any imminent return to peace talks seems unlikely.
However, she adds, this summit was expected to look at ways to shore up a ceasefire that Egypt helped to broker between Israel and Palestinian militant groups in the Gaza Strip in May to end 11 days of fierce fighting, as well as reconstruction in the territory.
At least 260 people were killed in Gaza and 13 people were killed in Israel in the conflict.
In recent weeks, that ceasefire has been tested by a rise in cross-border violence.
The Israeli military said earlier on Monday that it had struck targets belonging to the militant group Hamas, which controls Gaza, after rockets were fired at Israel for the third night in a row.