Heavy gunfire has broken out in Somalia's capital as opposition leaders defied a ban on public gatherings to protest about delayed elections.
The president's term expired last week, without the selection of a successor, throwing Somalia into a crisis.
Overnight, the government said militiamen attacked army positions in Mogadishu, close to the presidential palace.
Most roads in the city have been closed and special forces deployed.
President Mohamed Abdullahi Mohamed, also known as "Farmajo", has been due to hold a meeting with Somalia's five regional presidents as part of efforts to end the deadlock.
But it has been repeatedly delayed this week and so far only one of the regional leaders has arrived in the city, reports the BBC's Bella Sheegow from Mogadishu.
International flights to Mogadishu's main airport have been suspended following heavy gunfire and shelling by the perimeter wall that damaged nearby shops and restaurants, our reporter says.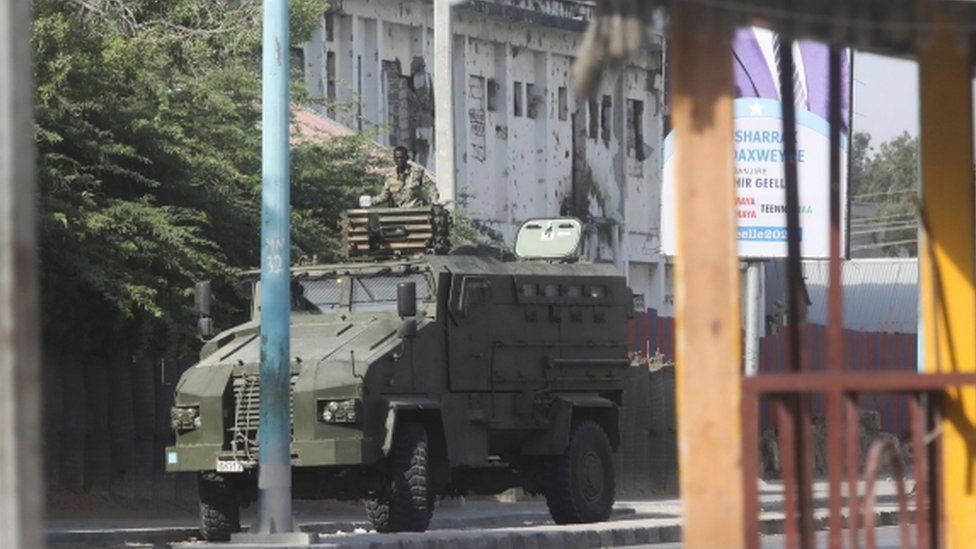 The opposition march was on the main airport road when the gunfire broke out.
Reports say security forces shot in the air to disperse the protest.
Footage on social media showed people running for cover as the shooting started.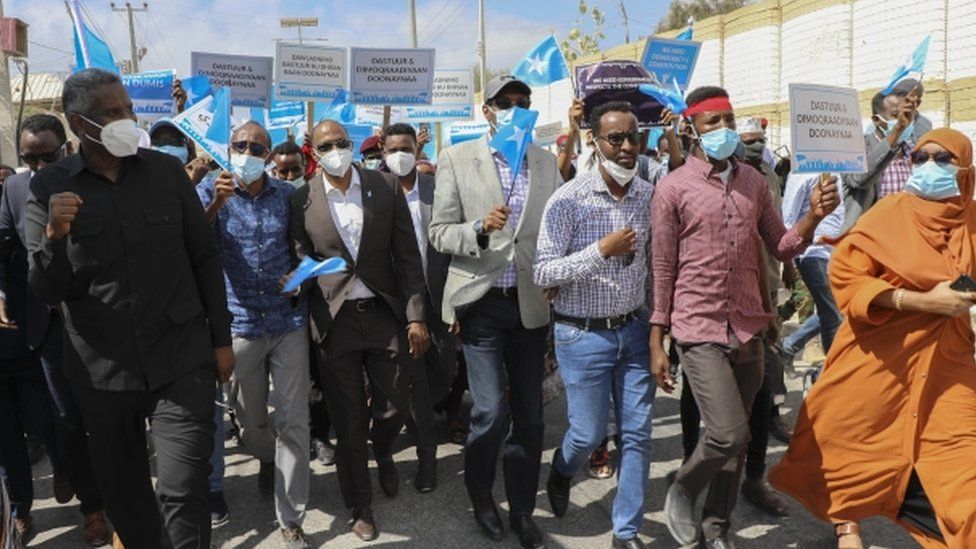 "Many forces heavily attacked us. I am now on my chest in an alley," protester Farah Omar told the Reuters new agency by phone.
Another witness, Yusuf Mohamed, told AFP that there was a "heavy exchange of gunfire" between security forces and armed guards protecting opposition supporters.
The UN has said it is "deeply concerned" by the clashes between the opposition and security forces overnight and on Friday morning.
Why hasn't the election taken place?
Somalia has been ravaged by conflict for decades but it has been inching towards stability since 2012 when a new internationally backed government was installed.
Nevertheless, the last time a one-person, one-vote election took place was in 1969.
Instead, elections are conducted under a complex indirect system where clan elders select MPs, who in turn choose the president.
But this time there have been regional squabbles over how power is distributed – and a row over a new election commission.
Analysts say there is also concern that the political wrangling could split the security forces along clan lines at a time when they are fighting al-Shabab Islamist militants, who control vast areas of central and southern Somalia.